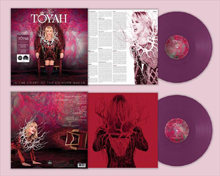 • Record Store Day 2019: The In The Court Of The Crimson Queen translucent coloured vinyl is on sale now, at selected record stores for Record Store Day 2019.
• Record Store Day: Exclusively to Record Store Day 2019, Demon Records proudly present a re-imagining of Toyah' s 2008 album release. Toyah and producer/co-writer Simon Darlow have remixed and added instrumentation to all the songs. These mixes appear for the first time on vinyl, and this release will also have completely new artwork. Pressed on Translucent Purple 180g Vinyl – Visit the Crimson Queen vinyl page…
• Behind The Scenes: Album release day exclusive photo: A second photo, from the new In The Court Of The Crimson Queen photo shoot, by Tony Levin was made available on the album's release day – See it at Instagram…
• Super Deluxe Edition TV: The BIG Record Store Day unboxing video preview – Music fans will not have failed to notice that tomorrow is Record Store Day, the day when lots of releases (almost entirely vinyl) are available exclusively from independent record shops around the world. Keeping with SDE tradition, we now present a special video preview of some of the best releases… Including the fantastic In The Court Of The Crimson Queen coloured vinyl (from 22.15 – 23.10)
• Amazon Charts: On its CD release day, In The Court Of The Crimson Queen was high up in the Amazon and iTunes album sales charts. Below is a screenshot (taken yesterday) of the Best Sellers in Pop Rock, with Crimson Queen at no. 3.